Slow Cooker Roast Chicken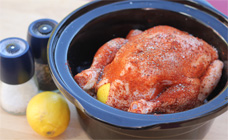 Ingredients
1 whole chicken (1.2-1.5kg)
1 lemon, halved
1 onion, peeled and quartered
1 tbsp paprika
Freshly ground black pepper and salt
Method
Wash your fresh chicken inside and out and place the halved lemon and the onion inside the birds cavilty.
Rub the paprika all over the bird so it has a nice colour.
Give it a liberal sprinkling of salt and pepper.
Ball up 6 balls of aluminium foil and place them in the bottom of the slow cooker.
Pour the water around the aluminium balls.
Place the bird on top of the foil so it isn't touching the bottom.
Place the slow cooker on high for 1 hour and then reduce to low for 8-10 hours. Alternately leave it on high for a total of 5-6 hours.
Notes
You can add a cup of white wine instead of the water if you would like the wine flavour through your bird.
I sometimes like to add a few garlic cloves into the cavity as well.