Quick and Easy Veal Cacciatore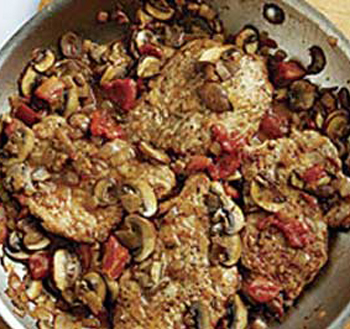 Ingredients
4 X 4-oz. veal cutlets, pounded 1/4 inch thick
1/3 cup all-purpose flour
kosher salt and freshly ground black pepper
2 tablespoons extra-virgin olive oil
1 tablespoon unsalted butter
1 small yellow onion, chopped
2 medium cloves garlic, minced
8 oz. sliced cremini mushrooms (3-1/2 cups)
1 cup canned diced tomatoes with juices
1/2 cup dry white wine
1-1/2 teaspoons chopped fresh rosemary
Directions
Put the flour in a wide shallow bowl.
Season the cutlets all over with 1 teaspoon salt and 1 teaspoon pepper.
Dredge in the flour and shake off any excess.
Heat the oil in a 12-inch skillet over medium-high heat until shimmering hot.
Working in batches if necessary, cook the cutlets until dark golden-brown, 1-2 minutes per side.
Transfer to a large plate as they finish.
In the same skillet over medium heat, melt the butter.
Add the onion and garlic and cook, stirring often, until softened, about 3 minutes.
Add the mushrooms and cook, stirring occasionally, until they release their liquid and it reduces to a glaze, about 5 minutes.
Stir in the tomatoes, wine, and rosemary.
Bring back to a simmer, scraping up any browned bits from the bottom of the skillet.
Reduce the heat to medium low and simmer until the sauce is thickened, about 7 minutes.
Season to taste with salt and pepper.
Add the cutlets and any accumulated juices to the sauce and cook until heated through, 1-2 minutes.
Serve immediately.