Oven-Baked NZ Hangi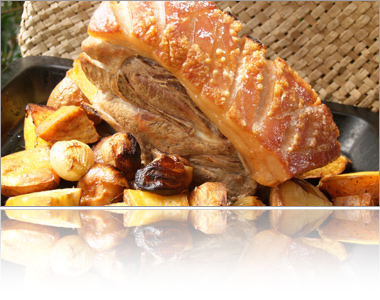 Method
Preheat oven to 160°C.
Pierce the skin or meat of the pork and insert garlic cloves.
Rub the outside of the pork with oil and salt.
Place on a rack in a lined baking tray.
If you have a meat thermometer place this in deepest part of the pork, avoiding the bone.
Surround the pork with the vegetables.
On lowest rung in oven place the smoker box.
Place the pork above the smoker box and bake until thermometer reaches 71°C or juices run clear when pork is pierced (approx. 3 hours).
Rest for 10 minutes before serving.
Terrific Tips
If you don't have a smoker box simply line a baking dish with several layers of foil, then add the woodchips, soil and brown sugar.
A bowl of steamed watercress goes great with Hangi pork.
If the skin is not crisp when pork is cooked, remove the skin and place it under the grill for 5 minutes until crackled.