Oriental Red Roast Pork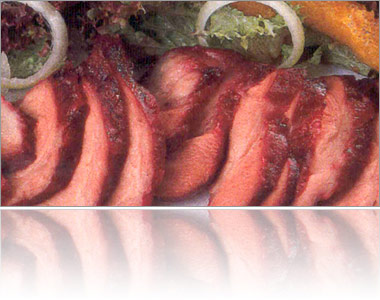 Ingredients
750g Scotch fillet
1 tablespoon liquid honey
1 tablespoon soy sauce
1 tablespoon hoi sin sauce (oriental bbq sauce)
1 teaspoon red food colouring (optional)
Method
Cut the meat into quarters lengthwise and place in bowl.
Place the pork and all other ingredients in a plastic bag and tie loosely.
Place in refrigerator 10-12 hours or overnight, turning occasionally.
Pre-heat oven to 170oC.
Drain the pork and place in baking tray.
Cook for 20-30 minutes until internal temperature reaches 71oC and the juices run clear when meat is pierced.