Meat Pies with Cheesy Mash Crust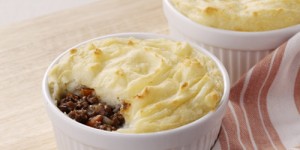 Ingredients
500g lean beef or lamb mince
1 teaspoon vegetable oil
1 large onion, diced
1 packet Continental Rich Beefy Mince Recipe Base
1 large carrot, peeled and diced
1 cup water
2 cups mashed potatoes
1/4 cup grated reduced fat tasty cheese
Method
Preheat oven to 180°C.
In a large pan, brown mince and onions, add Recipe Base, carrot and water; stir well. Cover and simmer gently for 10 minutes, stirring regularly.
Combine mash potato and cheese.
Divide mince mix between 4 bowls, topping each with the potato mix. Place in oven and bake for 15 minutes, or until tops are golden.
Hint: For traditional "pie floaters", top each pie once cooked, with mushy green peas and gravy.
Mushy peas: 1 cup frozen peas, cooked as directed, and mashed with a potato masher. Finish with 1 teaspoon Flora Buttery spread.
Gravy: Prepare 1 packet Continental Brown Onion Gravy as directed.