Lamb Curry with Kumara and Spinach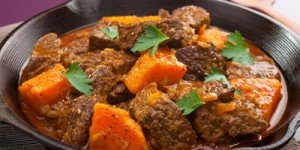 Ingredients
750g diced lamb forequarter
2 Tbsp mild curry paste
1 cup beef stock
½ cup coconut milk
400g orange-fleshed kumara or pumpkin, peeled and diced
150g packet of baby leaf spinach
Steamed rice to serve
Method
Season the lamb with salt and pepper and brown in a dash of oil in a hot frying pan. Transfer to a slow cooker.
Stir together the curry paste, beef stock, coconut milk and pour over the lamb. Scatter in the kumara or pumpkin, and cover.
Cook on low for 6-7 hours or high for 3-5 hours. Stir in the spinach leaves, cover and cook a further few minutes until the spinach has wilted. Serve with steamed rice.
Oven cooking instructions
Prepare the casserole as above, adding an extra 1 cup of beef stock. Cook in a lidded ovenproof dish at 160ºC for 90 minutes.
Tips
Don't rush the initial stage of browning the meat. This will make this dish rich in colour and flavour. Brown the meat in small batches over a medium-high heat.
A casserole will keep for up to 2-3 days in the refrigerator. Casseroles should be refrigerated immediately after the steam from cooking has evaporated. Place the hot casserole into a shallow container in the fridge so it cools quickly. Do not leave it to cool completely on the bench. To serve bring it slowly to the boil over a medium heat, reduce heat and simmer for about 3 minutes, or until the meat and sauce are both thoroughly hot.
Best lamb cuts for casseroling or braising: Diced lamb forequarter, forequarter chops, shanks, frenched shanks, neck chops, lamb topside, leg (bone-in), shoulder (bone-in), easy carve (leg or shoulder bone out), boned and rolled shoulder or leg.