Grilled Beef Fillet Steaks in Merlot Marinade with Prune Jam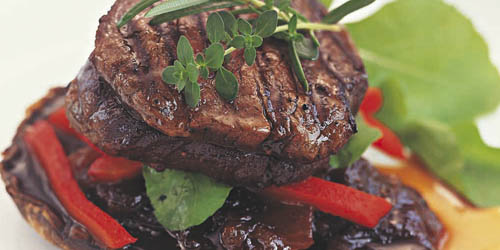 Ingredients
4 beef fillets, 3cm thick
1 cup merlot (or use merlot/cabernet sauvignon blend)
4 cloves garlic, peeled and chopped
4 juniper berries, crushed
Sprig parsley
Freshly ground black pepper to season
8 prunes
Prune Jam
1 small red onion, peeled and sliced
1 tablespoon each butter and oil
Prunes from the marinade
½ cup brown sugar
½ cup port
Grated rind and juice of 1 orange
Method Steaks
Tie the fillets with string to keep their shape if wished. Place in a sealed plastic bag or container and pour in the wine, garlic, juniper berries, parsley sprig, pepper and prunes. Seal and refrigerate for 2-3 hours.
Remove the meat from the marinade and dry on a paper towel. Heat a frying pan until very hot. Brush the steaks with oil and pan-fry over a high heat, allowing 2-3 minutes each side, depending on how well done you prefer your steak.
Allow the meat to stand for 1-2 minutes before serving over pan-fried mushrooms with the Prune Jam and garnishing with fresh herbs. Serve with your favourite vegetables or salad.
Prune Jam
Cook the onion in the butter and oil in a frying pan until softened and beginning to brown. Add the prunes from the marinade, brown sugar, port, orange rind and juice and cook over a low heat, stirring occasionally, for about 10 minutes until the mixture is thick and jam-like. Crush the prunes with a wooden spoon during cooking.