Greek Lamb with Spinach, Pinenuts and Feta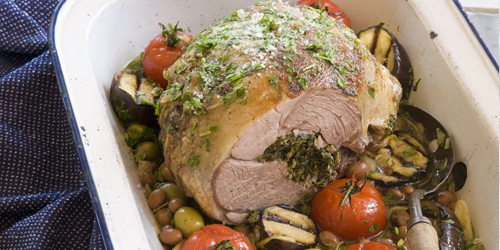 Ingredients
1 hollow-boned full leg of lamb
250g frozen or fresh spinach
2 spring onions, trimmed and finely chopped
¼ cup well-packed chopped fresh parsley
½ tsp dried dill leaves or 1 Tbsp chopped fresh dill
100g feta cheese, crumbled
¼ cup grated parmesan cheese
½ – ¾ cup pine nuts, toasted
1-2 onions, peeled and finely chopped
1-2 tsp minced garlic
1 cup dry white wine
½ cup olive oil, extra virgin is nice here
To Finish
400g can borlotti beans, butter beans or chick peas, well-drained and rinsed
½ cup chopped fresh parsley
1 cup green olives
grated rind one lemon
Method
Turn the slow cooker on to pre-warm while gathering and preparing the ingredients.
Defrost the spinach if frozen and place between two dinner plates. Squeeze the plates over a sink and allow excess moisture to fall away. Press as firmly as possible as you want the spinach to be as dry as possible. If using fresh spinach, wash the leaves, remove the stalks and cook the leaves in a saucepan with only the water that clings to the leaves until wilted. Drain and chop finely.
Mix the spinach together with the spring onions, parsley, dill, feta and parmesan cheeses and pine nuts. Season well with pepper.
Using skewers, secure the opening of the boned leg of lamb at the knuckle end. Pack the filling into the cavity where the bone has been removed. Use skewers and or string to secure the opening at the top of the leg of lamb to ensure the filling is well-enclosed.
Brown the lamb as well as possible in a dash of oil in a hot frying pan. Transfer to the slow cooker.
Scatter in the onion and garlic and pour in the wine and olive oil. Season with pepper and salt and cover with the lid. Cook on low for 5-7 hours or on high for 3-4 hours.
Carefully remove the lamb from the slow cooker. Scatter in the chick peas, parsley, olives and lemon rind and stir to mix. Cover and cook on high for a further 30 minutes while the lamb is resting.
Serve the lamb sliced with spoonfuls of the chick peas and juice and accompany with grilled sliced aubergine and baked vine tomatoes.