Chicken and Chorizo Meatballs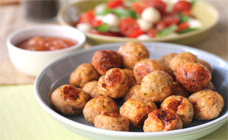 Ingredients
500g chicken breast mince
1 chorizo sausage
1 red onion, peeled and diced
1 cup breadcrumbs
1 egg, lightly beaten
2 cloves garlic, crushed
½ tsp sweet paprika (Hungarian style)
1 tbsp powdered chicken stock or 1 chicken stock cube.
½ cup flat leaf parsley, chopped
½ cup vegetable oil (for frying)
Method
Place all ingredients into a food processor – except for the oil – and process until thoroughly combined.
Cover a tray with baking paper. Roll tablespoon sized balls of the meat mixture and place on the tray.
Heat 3 tablespoons of oil in a frying pan over a medium heat and fry the meatballs, gently turning with a spatula until they are brown and cooked through. This should take around 5 minutes.
Alternately you can bake these at 160°C fan-forced for 15-20 minutes or until cooked through.
Serve in soft tortillas with salad and salsa or on a platter as finger food with a delicious chutney.
Notes
Frying these in a pan makes them all nice and golden, but if you bake them they stay a pale colour.
If you don't have a food processor you can just cut these ingredients finely and mix together with your hands and you will get the same great taste.