Brazilian Pork Chops in Orange Sauce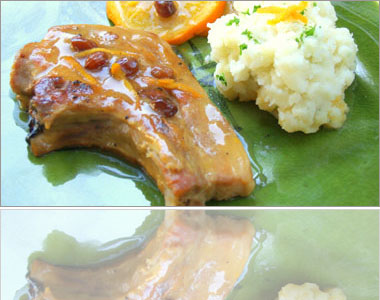 Ingredients
4 100% New Zealand pork loin chops
1 teaspoon each of cumin seeds, grated fresh ginger, dried oregano and minced garlic
1/2 teaspoon each of turmeric, paprika, mustard powder and ground coriander
Salt and pepper to taste
2 tablespoons canola oil
1 medium onion, peeled and diced
1/2 cup orange juice
1 cup water
1/4 cup raisins (or sultanas)
2 oranges
Method
Place the chops in a plastic bag or bowl.
Mix together all the herbs and spices and sprinkle over the chops.
Heat the oil in a heavy based fry pan and quickly brown the chops on both sides.
Place in lidded saucepan or casserole dish.
Brown the onions and stir in the orange juice and water.
Pour over the chops and add the raisins.
Simmer in lidded pot or pre-heated oven (165°C) for one hour.>
Zest the orange skin and cut orange into quarter's and then 1 cm slices.
Place zest and segments above chops and cook a further 15 minutes.
Terrific Tip
This dish can also be made in a slow cooker on low for 7 hours.