Boiled Bacon with Cider and Raisin Sauce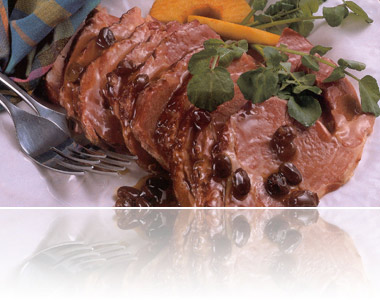 Ingredients – Boiled Bacon
1kg Boiling bacon, rind and fat removed
100g carrots, peeled and sliced
100g onion, peeled and sliced
1 bouquet garni (parsley, thyme, bay leaf in a muslin bag)
4 whole cloves
500 ml dry cider
500 ml water
Ingredients – Sauce
100 g seedless raisins
300 ml cooking liquor
2 tablespoons brown sugar
2 tablespoons lemon juice
2 teaspoons cornflour
2 tablespoons water
Method
Weigh bacon and calculate cooking time – allow 30 minutes per 500 g plus 30 minutes.
Place bacon, vegetables, herbs and cloves in deep pan.
Add cider and water, bring to the boil, cover and simmer gently for calculated cooking time. Add more water if necessary.
Remove bacon and reserve cooking liquor.
To Make Sauce
Place seedless raisins, cooking liquor, brown sugar and lemon juice in a saucepan.
Cover and simmer for 10 minutes.
Blend the cornflour and water, stir into the sauce and simmer a further 3 minutes.
Serve the bacon sliced with the sauce.