BBQ Chicken Salad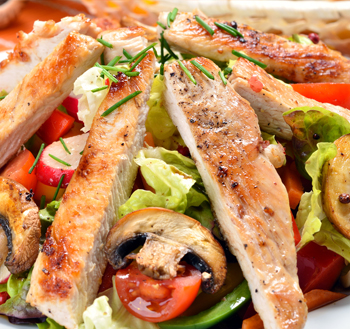 Ingredients
2 skinless, boneless chicken breast halves
4 stalks celery, chopped
1 large red bell pepper, diced
1/2 red onion, diced
1 (8.75 ounce) can sweet corn, drained
1/4 cup barbeque sauce
2 tablespoons fat-free mayonnaise
Directions
Preheat grill for high heat.
Lightly oil grate. Grill chicken 10 minutes on each side, or until juices run clear. Remove from heat, cool, and cube.
In a large bowl, toss together the chicken, celery, red bell pepper, onion, and corn.
In a small bowl, mix together the barbeque sauce and mayonnaise. Pour over the chicken and veggies. Stir, and chill until ready to serve.