Apricot Pork Slow Cook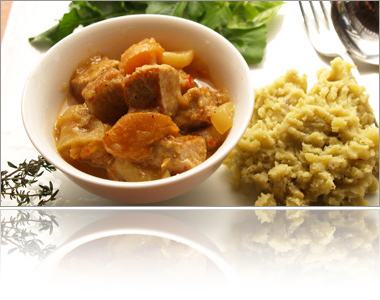 Ingredients
500g 100% New Zealand Trim Pork Pieces
2 medium sized onions, peeled and diced
1 Tablespoon canola oil
1 400g can apricots in juice
1 cup water or vegetable stock
Zest and juice of 1 lemon
1 Tablespoon fresh thyme leaves
2 cloves garlic, peeled and finely chopped
1/2 teaspoon fresh chilli (optional)
Freshly ground black pepper
Method
Heat the oil in a non-stick frying pan over medium heat and fry the pork and onion until golden brown.
Preheat oven to 170ºC.
Transfer pork and onion to an oven proof baking or casserole dish.
Add all remaining ingredients, cover and cook in pre-heated oven for 1 hour.
To Serve
Serve with a kumara mash and green vegetables or a salad.
Handy Hints
If there are no pork pieces available use Trim Pork medallion steaks.
To use a slow cooker simply fry the pork and onion to golden brown, add to slow cooker with all other ingredients and cook on low for 8 hours.
This recipe is also great when spiced up with Moroccan spices and served with lemon couscous.