Apple Pork Slow Cook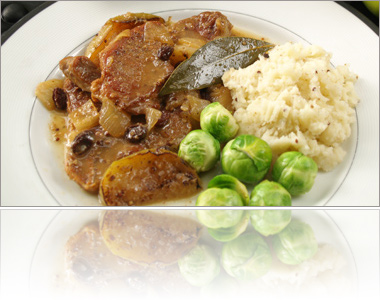 Ingredients
600g 100% New Zealand Pork shoulder chops (2 large -3 medium sized chops)
1 tablespoon canola oil
1 medium onion, peeled and chopped into a large dice.
2 large cooking apples
1/2 cup raisins (optional)
1 tablespoon whole grain mustard
2 cups apple cider (or apple juice and 1 tablespoon cider vinegar)
3 sage or bay leaves
Method
Cut the chops in half leaving bone on.
Heat the oil and brown the pork on both sides and transfer to slow cooker.
Brown the onions and place on top of pork.
Peel, core and dice one apple and place on top of onions.
Leaving peel on, cut remaining apple into 8 slices, quickly brown and add to slow cooker.
Sprinkle over the raisins.
Stir mustard into cider and pour over.
Add leaves, cover with lid and cook on Low for 6-8 hours.
For stove top cooking using a lidded heavy-based saucepan, bring to the boil and then simmer with lid on lowest heat for 1.5 hours.
To serve
Serve with mashed potatoes and steamed green vegetables.
Hint/Tips
Spray the inside of slow cooker with cooking spray before adding meat.
Stir 1 tablespoon wholegrain mustard through the mashed potatoes.
Cooking meat on the bone adds flavour.